We embark on a journey to explore the qualities that define these remarkable artisans of light and emotion, and why entrusting them with your special day ensures a treasure trove of timeless photographs that tell your unique love story.


1. Creative and artistic vision
The most incredible wedding photographers in Chandigarh have a unique artistic perspective that turns fleeting moments into poetic masterpieces. Their creative abilities extend beyond traditional pictures, catching the core of your feelings and weaving them into an exquisite tapestry of visual delight. They use their lenses to add a touch of magic to each frame, immortalizing the authentic expressions that make your wedding day distinctive.


2. Technical Expertise
Creating flawless images requires more than just a camera; it necessitates technical competence. The top wedding photographers in Chandigarh know how to make the most of advanced equipment. They handle varied lighting circumstances with ease, ensuring that every shot is correctly exposed and flawlessly staged, resulting in photographs that showcase their technical prowess.


3. Storytelling Prowess
Your wedding day is more than just a celebration; it's a new chapter in your love journey. The top wedding photographers in Chandigarh are professional storytellers who can capture the evolving drama of your wedding day. Their images convey your trip with authenticity and emotional relevance, from the exquisite elements of your dress to the tears of pleasure shared with loved ones.


4. Emotional Attachment
The best wedding photographers in Chandigarh understand that a wedding day is a rollercoaster of emotions. They have the capacity to connect on a personal level with you and your guests, providing an atmosphere of comfort that enables frank and genuine moments to shine through. Their subtle presence captures the genuine emotions that characterize your event.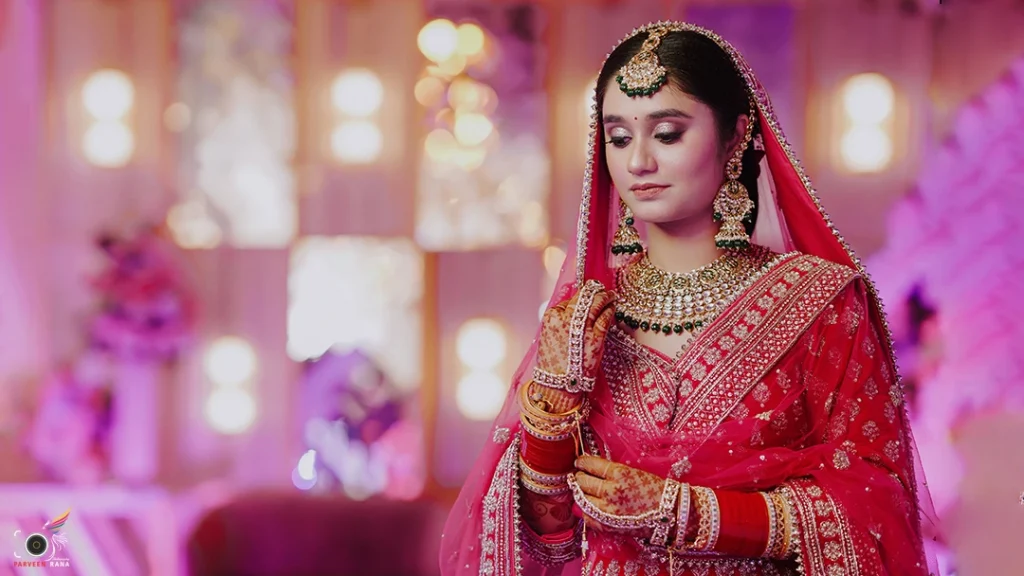 5. Adaptability and Versatility
There are no two weddings alike, and the top wedding photographers in Chandigarh understand this. They are adaptive and versatile, readily integrating into other ethnic customs and styles. Their ability to capture the subtleties of varied ceremonies assures that your wedding book is an accurate depiction of your one-of-a-kind occasion.


6. Excellence and Reputation
The greatest wedding photographers in Chandigarh speak volumes about their commitment to perfection. Their gallery is filled with breathtaking photographs that demonstrate their skill, originality, and dedication to delivering exceptional results. Their previous clients' testimonies attest to their capacity to exceed expectations.


7. Detail-oriented
Every part of your wedding day has been meticulously planned, and we ensure that no detail is overlooked. Their excellent eye for detail culminates in a sequence of images that capture the essence of your day in all its beauty, from elaborate jewelry to delicate floral arrangements.


8. Collaborative Methodology
The greatest wedding photographers in Chandigarh see their work as a collaboration with the couple. They take the time to learn your vision, tastes, and personality, ensuring that your unique love story is reflected in the images. Your participation is valued, and their expertise complements your ideas, resulting in images that are deeply meaningful to you.


9. Excellence in Post-Production
Photography is more than just clicking a shutter; it also includes the painstaking post-production process. Parveen Rana photography takes the time and effort to edit each shot, adding colors, textures, and emotions to produce a cohesive and captivating collection that captures the genuine essence of your wedding.


10. Enduring Legacy
Choosing the top wedding photographers in Chandigarh is about creating a timeless legacy for future generations, not just capturing events for today. Their photos become treasured heirlooms that transport you back to the beauty of your wedding day, allowing you to relive the pleasure, love, and happiness every time you look at them.
To summarize, the best wedding photographers in Chandigarh are artists, storytellers, and emotional conduits as well as photographers. They transform your wedding day into a symphony of everlasting memories with their remarkable artistic vision, technical prowess, and attention to capturing the heart and spirit of your celebration. As you begin the process of picking a photographer to record your special day, keep in mind that going with the best means investing in a collection of images that will stand the test of time and elicit emotions for years to come.