Love is a journey that starts with a single step, a journey where every moment is a cherished memory waiting to be captured. Enter the enchanting world of Parveen Rana Photography in Chandigarh, where love blooms against the backdrop of this vibrant city. As the anticipation builds up for the grand celebration, the pre-wedding shoot in Chandigarh becomes a way to capture the essence of this beautiful chapter. In this article, we delve into the significance of pre-wedding photography, the artistry of professional photographers in Chandigarh, and how they craft visual narratives that celebrate the love stories of couples.
A Tale of Two Hearts in Chandigarh
Chandigarh, with its lush gardens, serene lakes, and iconic architecture, sets the stage for the romantic journey of couples. Pre-wedding photography in Chandigarh transforms these stunning locales into dreamy backdrops that mirror the essence of love. Whether it's the peaceful ambiance of Sukhna Lake, the architectural marvels of Capitol Complex, or the charm of Rock Garden, each location becomes a canvas on which couples express their unique bond. As professional photographers in Chandigarh capture candid moments amidst these picturesque settings, the love shared between couples blossoms in every frame.

Artistry and Emotion in Wedding Photography
A professional photographer in Chandigarh isn't just someone behind the lens; they are artists who paint stories with emotions. Their skill lies not only in capturing the right angle and lighting but also in immortalizing the emotions shared by the couple. From the joyous laughter to the tender moments of connection, these professionals weave a visual tapestry that speaks volumes about the couple's journey. Their ability to capture the fleeting moments allows couples to relive the emotions of this chapter for years to come.
A Prelude to the Wedding
A pre-wedding shoot in Chandigarh is more than just a photoshoot; it's a celebration of love's prelude. As couples prepare to embark on their lifelong journey together, this phase becomes a way to freeze moments of anticipation, excitement, and pure happiness. These photographs don't just capture the chemistry between couples; they encapsulate the excitement that builds up to the wedding day. The pre-wedding shoot becomes a cherished memory bank that couples can revisit whenever they want to relive the emotions of this special time.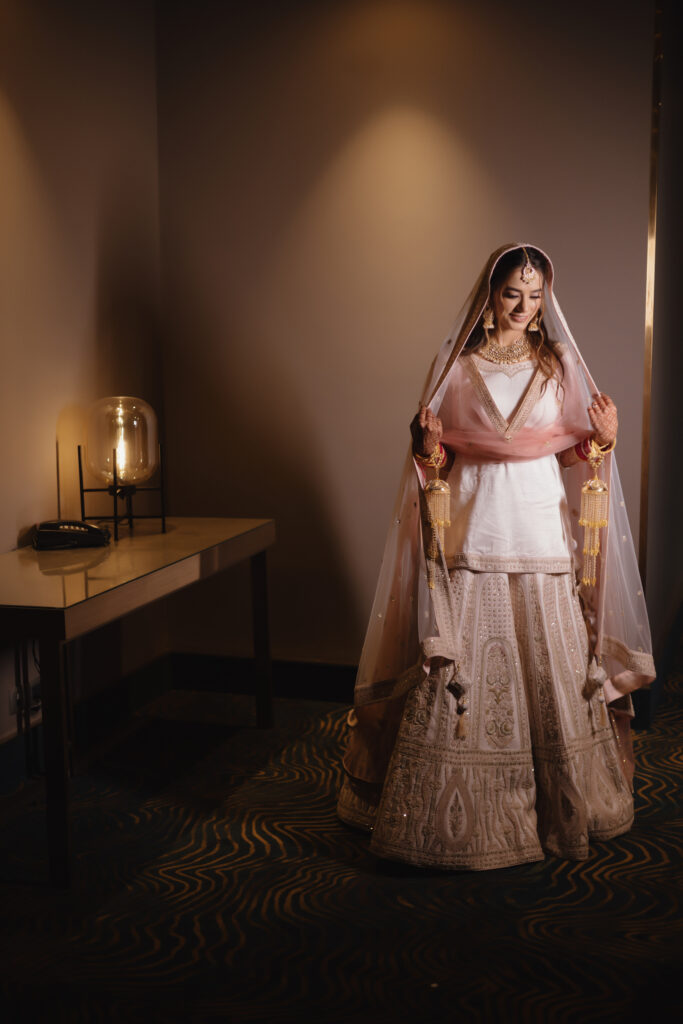 The Role of a Professional Photographer
The role of a professional photographer in Chandigarh goes beyond just clicking pictures. They become storytellers who carefully curate visual narratives that tell a couple's unique love story. Their attention to detail, expertise in lighting, and artistic eye contribute to creating photographs that are a blend of elegance and emotion. A professional photographer understands the importance of making couples comfortable, enabling them to express themselves naturally. With their guidance, couples are captured in moments of authenticity, and each photograph becomes a piece of art that reflects their personalities and connection.
Love Blossoming Through the Lens
With pre-wedding photography in Chandigarh, love is not just captured; it's celebrated. The iconic locations, the artistic prowess of professional photographers, and the genuine emotions shared by couples all converge to create a visual symphony that narrates a tale of two hearts coming together. As the prelude to the grand celebration, these photographs stand as a testament to the journey of love, anticipation, and connection that leads to the wedding day. For couples in Chandigarh, the pre-wedding shoot isn't just about capturing images; it's about capturing moments that bloom into cherished memories, forever preserved through the lens of Parveen Rana.